One of my favourite places in the world is the Royal Ontario Museum. The ROM is "Canada's largest museum and houses one of the world's great permanent collections of art, cultural artifacts and natural history specimens." It was built in 1914 and houses 13 million (yes, MILLION!) pieces of art and artifacts. It also features the controversial Daniel Libeskind-designed, Michael Lee-Chin Crystal. Which caused a severe uproar when it was announced. Literally, people roared. I heard it. I also sometimes still get lost in it. Every time I go, I spend ten minutes trying to figure out how to get to Egypt. But that's a story for another time.
I'm a member of the museum. I do a lot of research for my stories there. Sometimes I wander around and just see what strikes me, other times I go in with an agenda, head straight to the gallery I'm interested in and go through it in detail. They used to have a beautiful exhibit of bird specimens, it's currently being renovated, and I spent a lot of time there when I was developing Phoenix.
They also have an impressive selection of temporary exhibits. I had a particularly good time at the spider exhibit last fall and a somewhat less enjoyable time at a new dinosaur experience. And although I thoroughly enjoyed the blue whale installation, I'm going to say learn from my mistakes and don't go to a major public space the long weekend before school starts. Let's just say it was sweaty and leave it at that.
Last year they featured Iris van Herpen: Transforming Fashion. Iris van Herpen is a Dutch couturier (aka high-end, super detailed and fantastic, fashion designer. She dressed Gwendoline Christie, you know, Brienne of Tarth, for the Game of Thrones premiere.) This exhibit featured pieces from her 2008 to 2015 collections.
It was stunning. And I say that without hyperbole, I was stunned. I found myself standing stock still, jaw slack, in front of more than one piece. It was at times unsettling, joyous and anger-inducing. As you can see in the pictures below, the dresses look like pliable exoskeletons.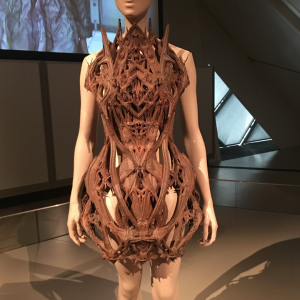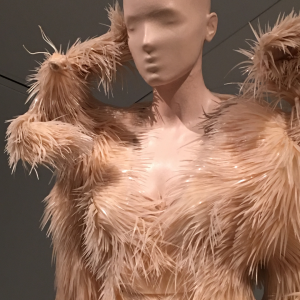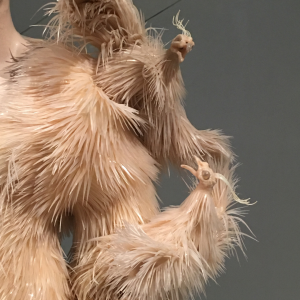 The Iris van Herpen exhibit led into another installation; Philip Beesley: Transforming Space. Esthetically, this built very nicely on Transforming Fashion. The jagged edges that were at once also smooth, which is a total mind-bender, felt at right home with the Beesley pieces.
Honestly, this was the first time I'd been at the museum and had to truly restrain myself from touching the pieces. Both installations produced a visceral reaction in me. I wanted so badly to reach up and put my hands in the artwork. To the eye, they looked so hard and cold, but they created an emotional reaction in my heart, and my hands ached to make sense of it all.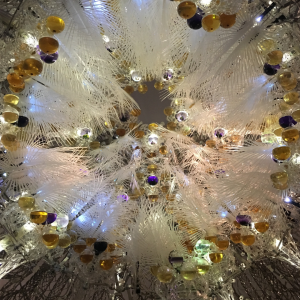 See what I mean? When you step back, they look like amoebas, all soft and squishy, but when you get close, they became sharp and jagged.
If either of these exhibits come to a museum near you, I highly recommend you check them out. These pictures represent a tiny sliver of their awesomeness.
Have you ever had a visceral reaction to a piece of art? Let me know in the comments.